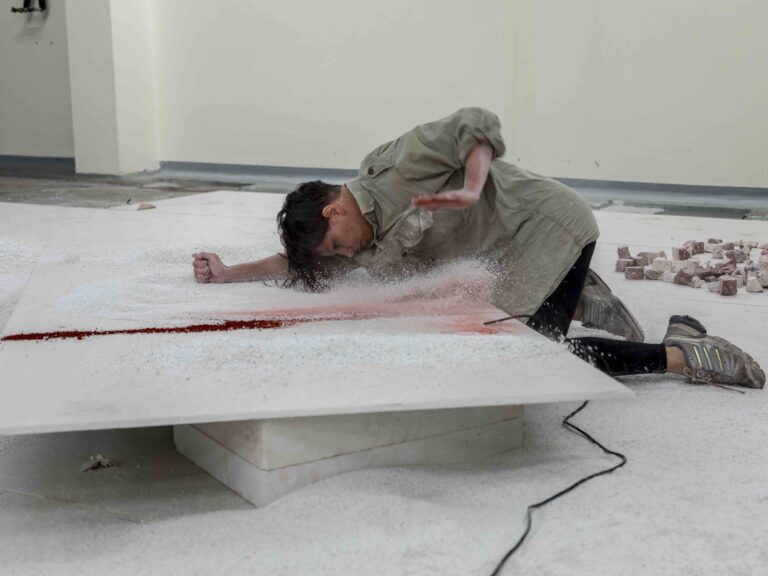 08.06.22-09.09.22 Memorabilia (Brottyta)(Röd/vit)
Pop-up show at Rökerigatan 21, Slakthusområdet, Stockholm. Organized by Stockholm konst
Performative installation
Plaster, ironoxide, plasterboards, concrete
Installation was created with leftovers and material components from public art work Brottyta (röd/vit) installed earlier this year at Väpnarplan, Stockholm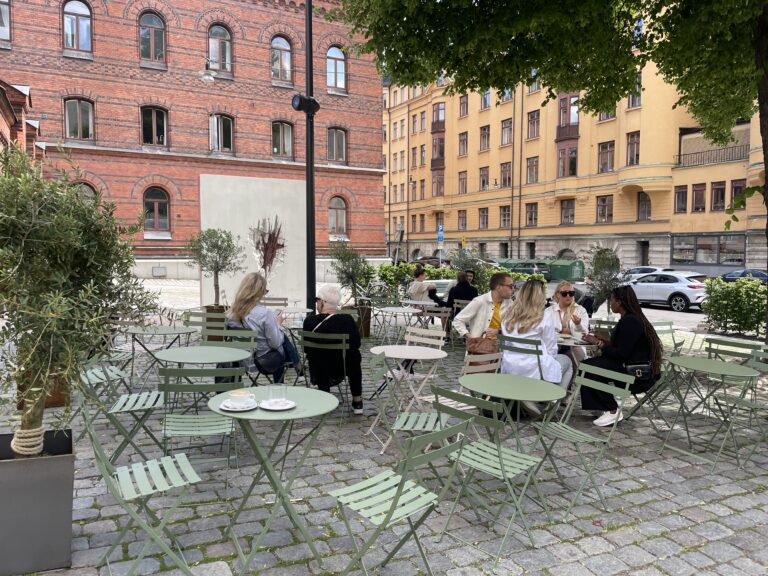 06.06.22 Brottyta(röd/vit)
Public art work commissioned by Statens fastighetsverk and Public art fund, Sweden.
Sculpture
Concrete and ironoxide
Photo by Richard Estay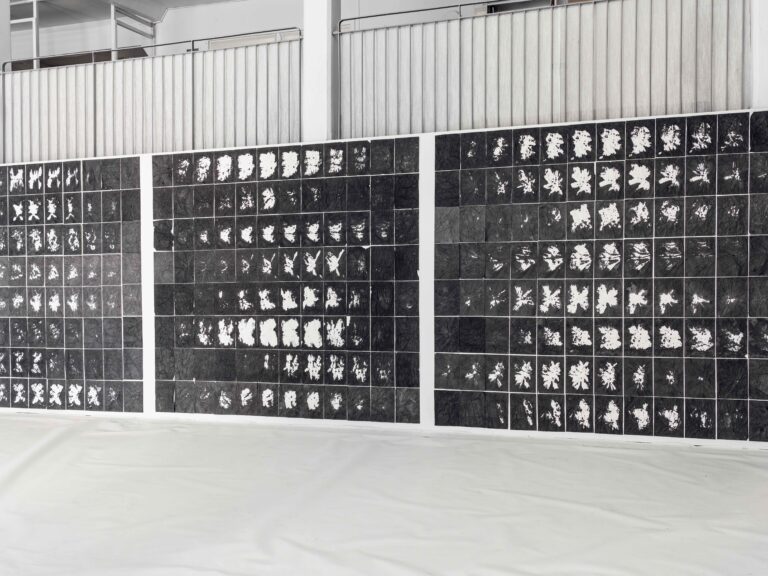 09.09.20 Copyright at 3 våningen, Göteborg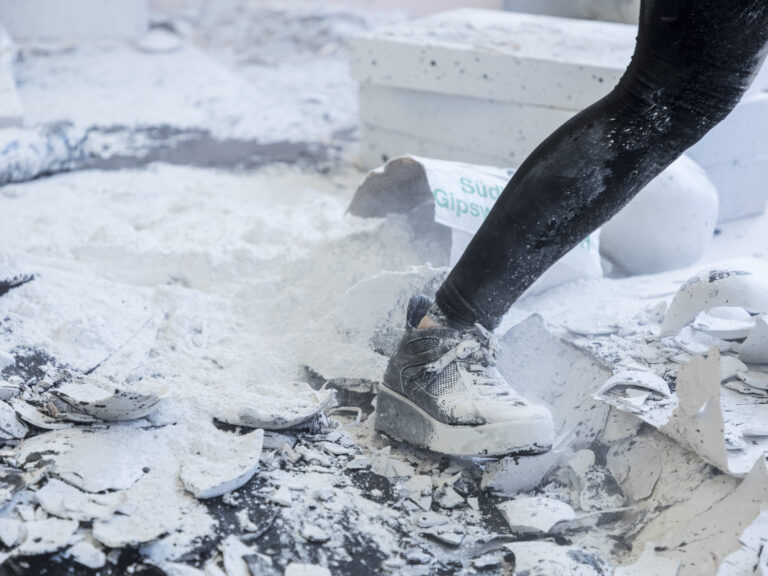 28.08.20 Memorabilia at Steinsland/ Berliner and Chart Art Fair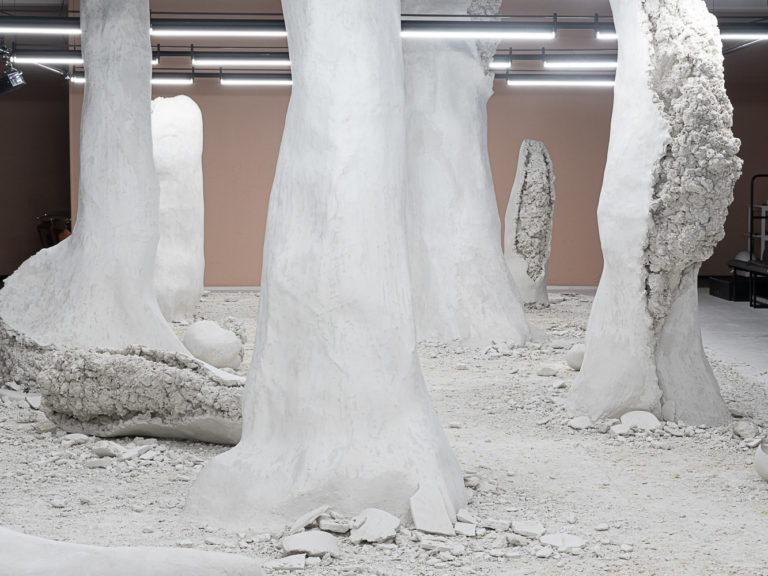 20.09.19 Fedra/ Hippolytos at Dramaten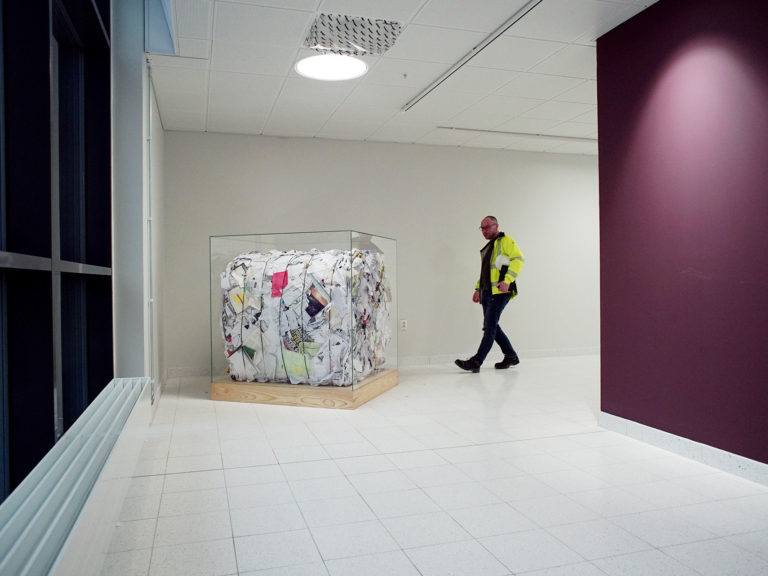 20.03.20 The World as Of Yesterday, Ryhov hospital, Jönköping
The World As Of Yesterday, Ryhov hospital, Jönköping.
Public art commission – Ryhov hospital. The project was made in collaboration with local recycling factories in Jönköping. The material was collected from these factories and then sorted in themes presented on the different floors.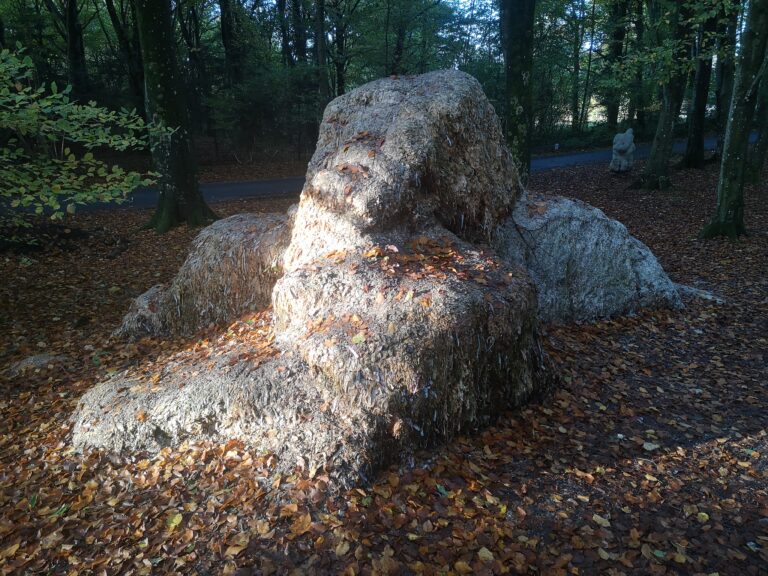 The World As Of Yesterday, Denmark, 28.07.2014- ongoing
The World As Of Yesterday, 2014- ongoing. Skovsnogen Art Center, Denmark. The sculpture is made out of 3.6 ton compressed book printing cut-outs. The piece will evolve over time. The transformation of the sculpture will be documented during the years to come.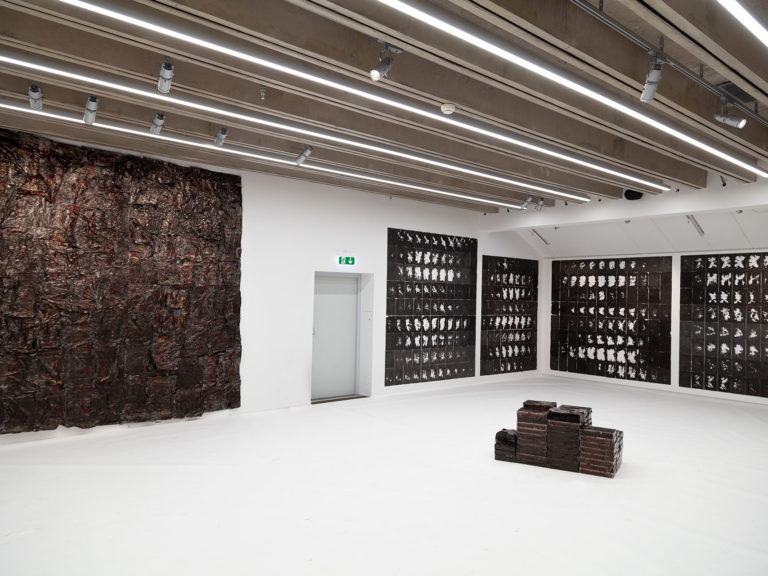 15.10.19 Linear B at Konsthall 16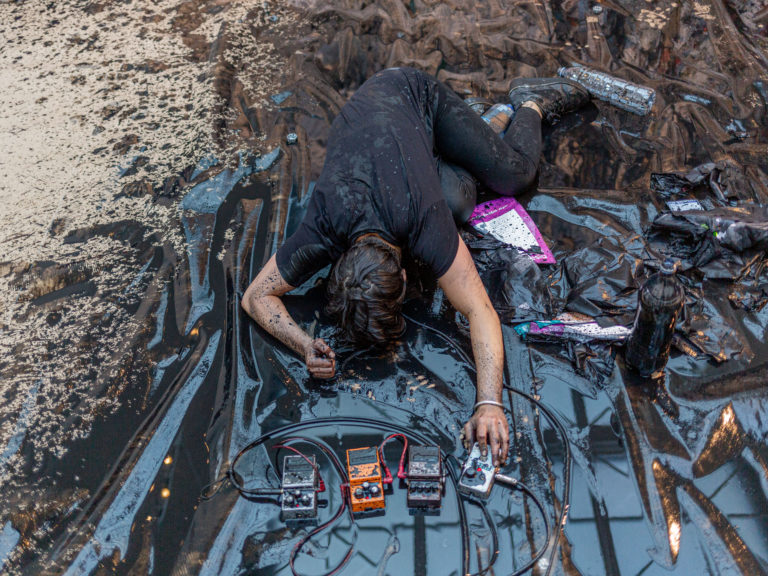 06.06.19 The world as of yesterday, Göteborgs konsthall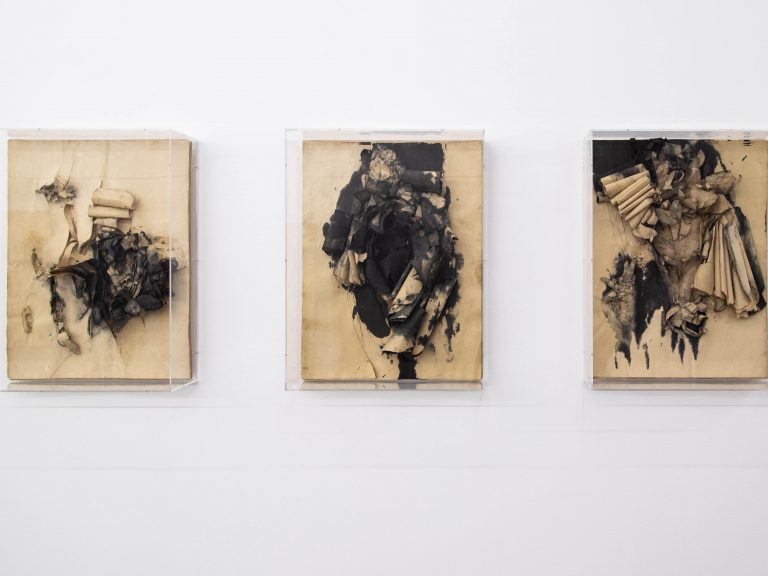 09.10.18 Linear A at Belenius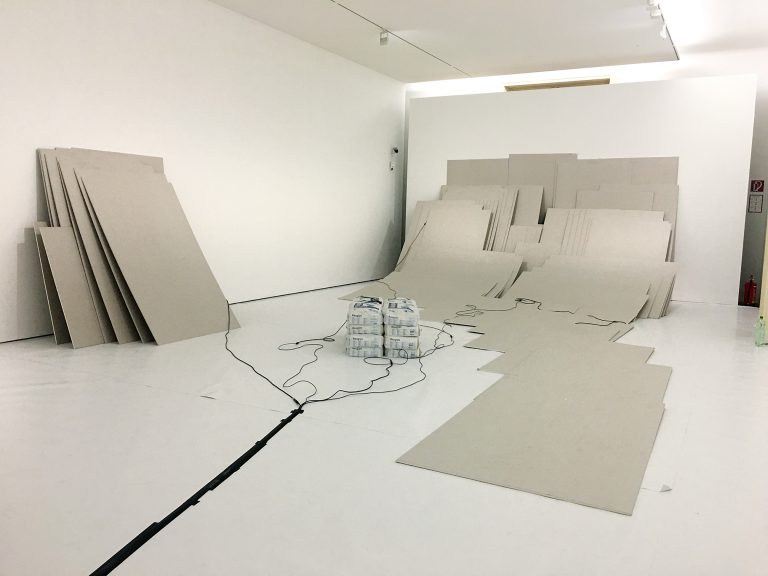 23.05.18 Exile at Neue Galleri, Graz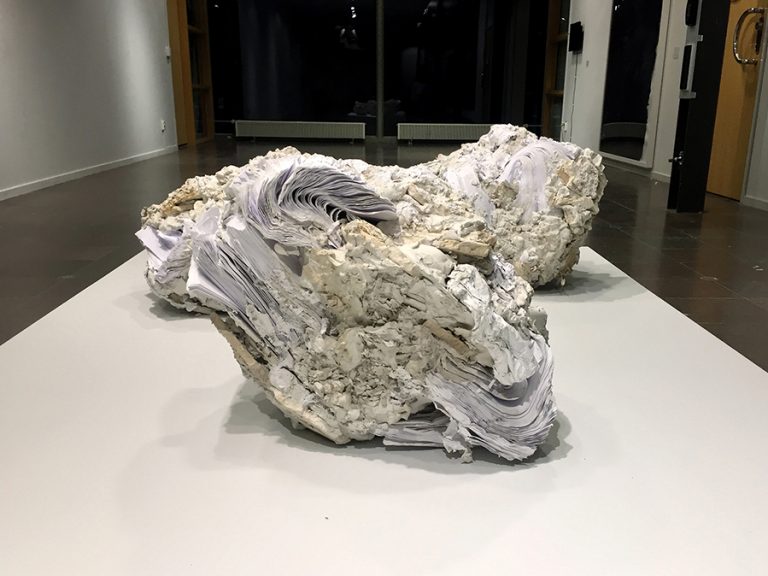 25.11.17 Copyright at Gävle konstcentrum
Soloshow made at Gävle konstcentrum.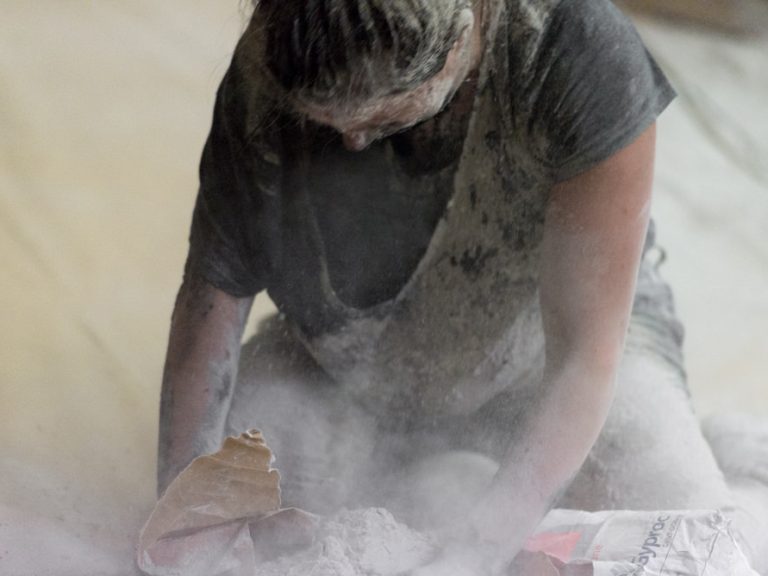 Exile- Live arts week, Bologna 27.04.17
In collaboration with C spencer Yeh. Curated by Xing. For video click here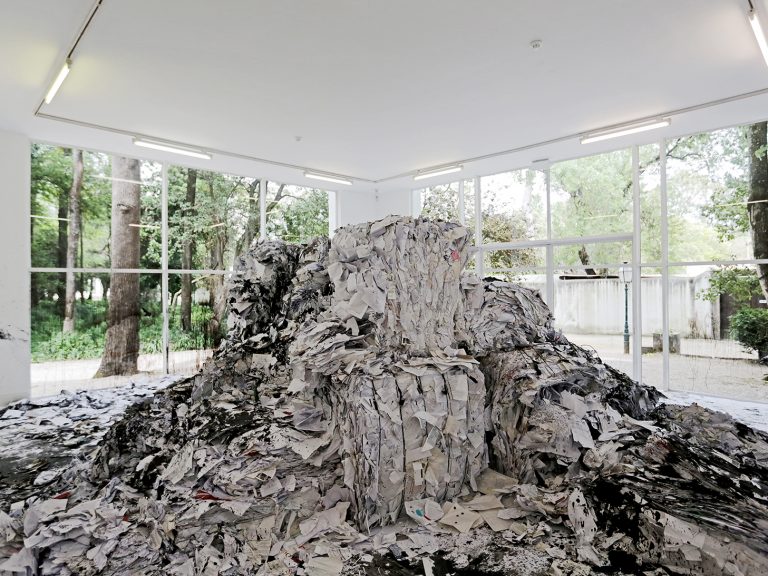 The world as of yesterday- BoCa, Lisbon 20.04-30.04.17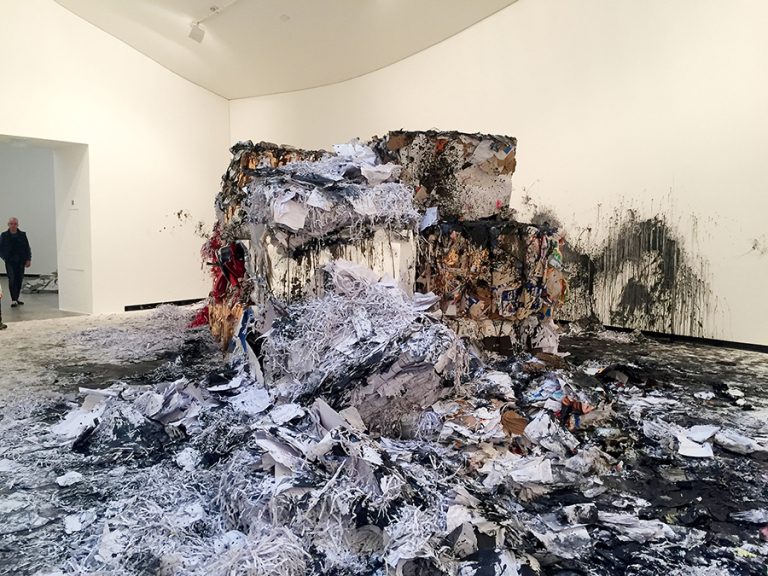 The World as Of Yesterday- Marta Herford, Herford 28.10-28.01.2017
Marta Herford- exhibition made in two parts.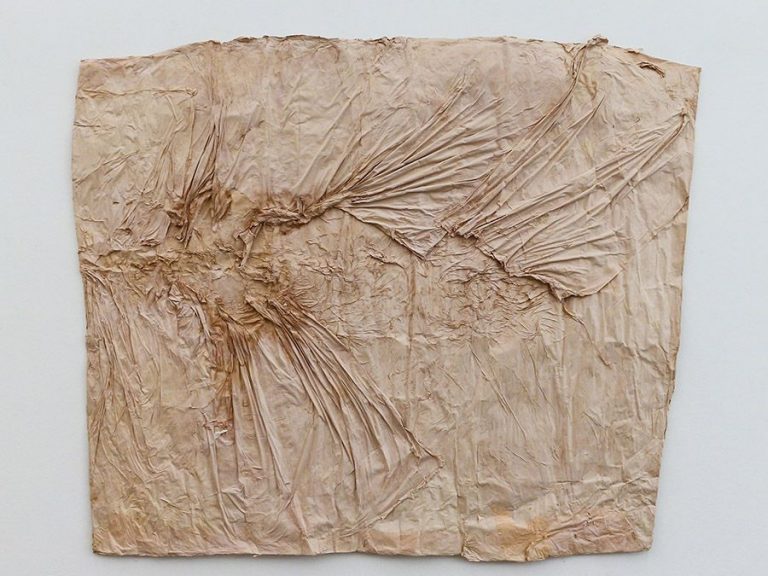 Copyright- Galleri Andersson/Sandström, Stockholm 12.05-18.06.2016
Copyright- Galleri Andersson/Sandström, Stockholm. Wall obects made with donated pink paper from Kathimerini Newspaper, Greece. Deforming Perception text by Iliana Fokianaki. Art Forum, review by Fredrik Svensk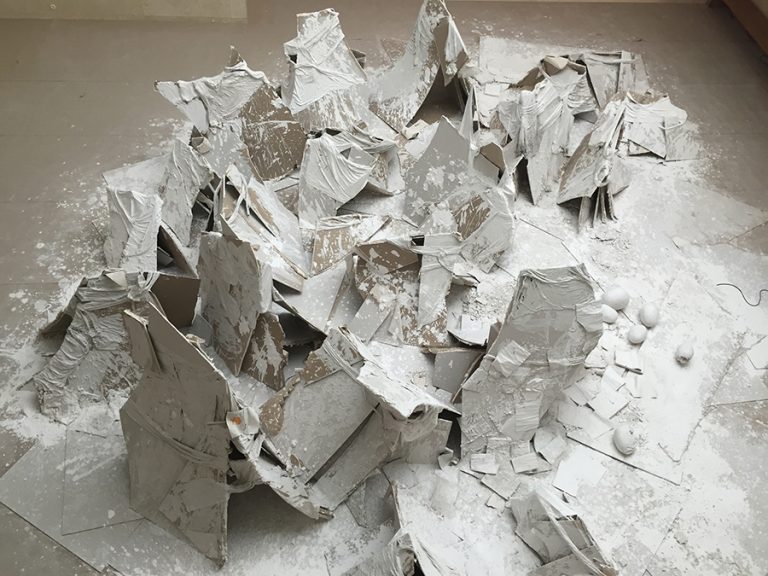 EXILE- Serralves Museum, Porto 19.09-20.09.2015
In collaboration with Lars Siltberg (sound) Joana Alves-Ferreira, Sergio Gomes, Rui Santo, Rui Oliviera, Andrew May, Helena Barbosa, Ana Vale, Clara Gómez González and Carlos Gomes. (archeologists and conservators) Photographers; Lars Siltberg, Filipe Braga, Pedro Rocha, Anastasia Ax, Carla Pinto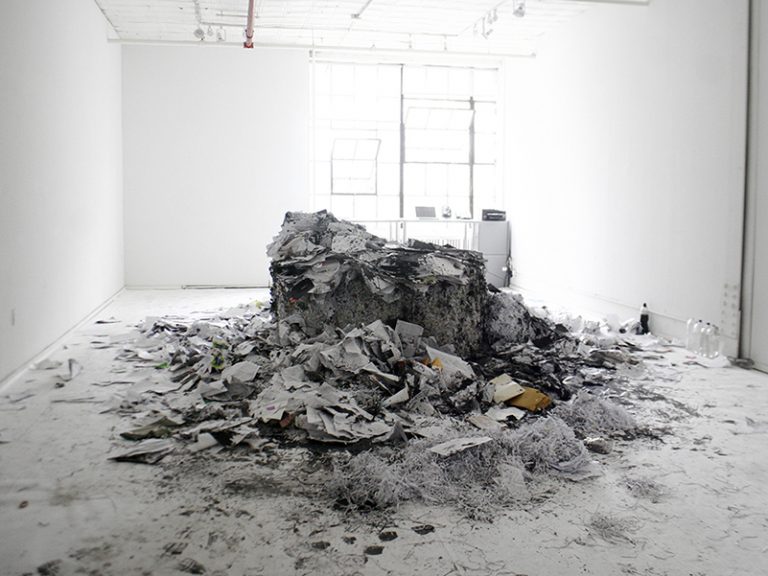 The World As Of Yesterday- Brooklyn 11.09-24.10.2015
The World As Of Yesterday, Black And White Gallery/ Project space, Nyc 2015. In collaboration with C Spencer Yeh (sound) and High Tech Resource Recovery Inc, Brooklyn (recycled paper)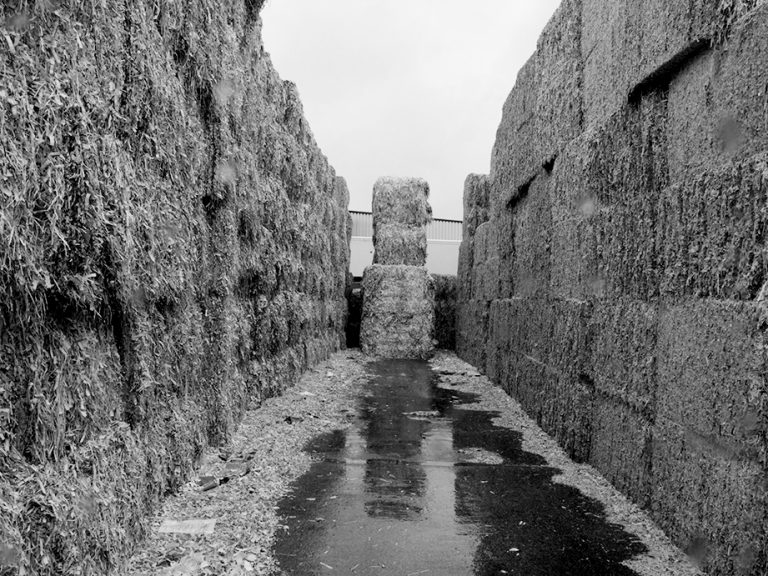 The World As Of Yesterday- Nuremberg 16.06-11.10 2015
The World As Of Yesterday , Faber- Castell International Drawing Award, Neues Museum, Nuremberg 2015. In collaboration with ROWE recycling company. Materials;  Shredded office paper, unprinted posters and newspapers, ink and water. After the exhibition the paper will go back to the recycling company.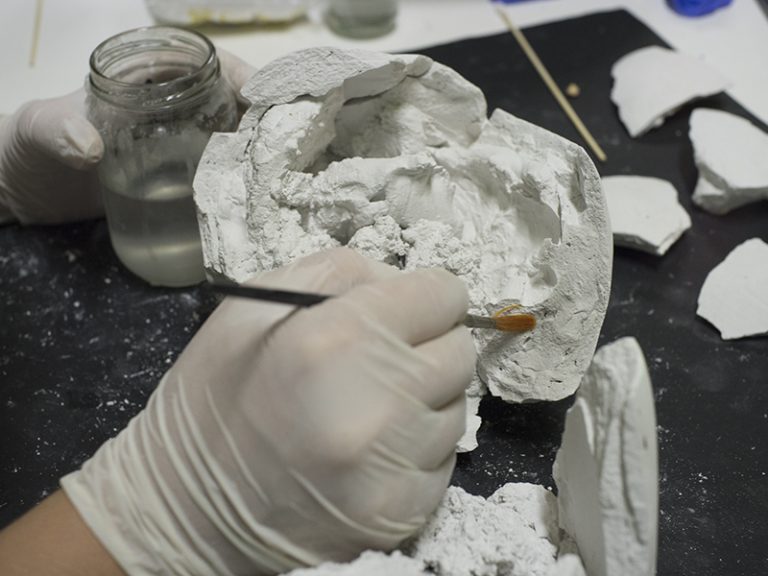 EXILE- The archive (3) Kunsthalle Athena, Athens, 29.06- 2.07.2015
EXILE- The archive (3) as part of the exhibition We´ll meet again at Kunsthalle Athena, Athens, 2015.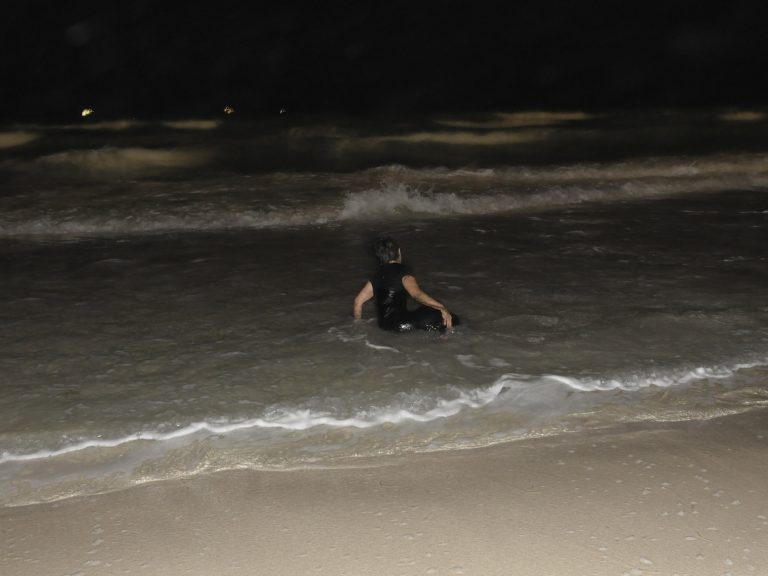 The World As Of Yesterday- Miami Beach 02.12-06-12.2014
The World As Of Yesterday, 2014 UNTITLED, Miami Beach. Material borrowed from Miami Wastepaper. The performance was made during the opening at UNTITLED. The second day part of traces/ installation was painted over by the art fair staff without the knowledge of the gallery.  After the fair the remains were transported back to the recycling company. Related Press; News.Artnet.Com, Bbook.com, Whitewallmag.com, Paris-la.com, Kqed.org Photography: Marcus Åström and Anastasia Ax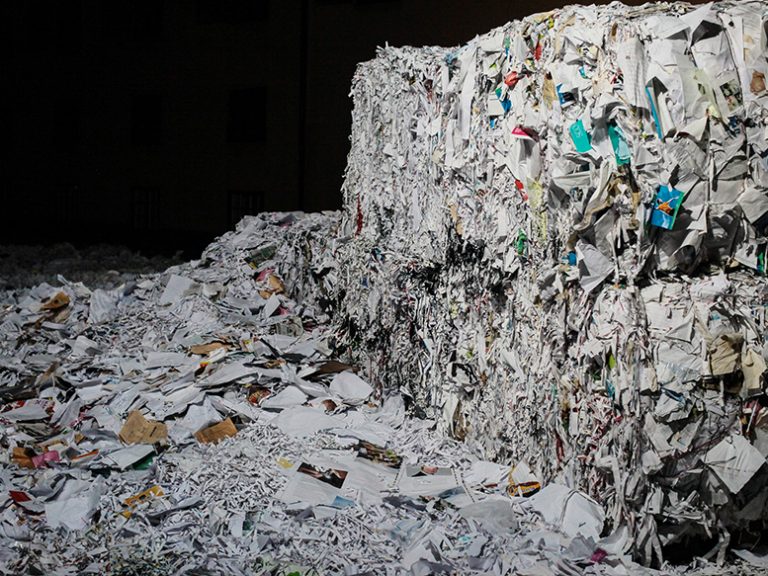 The World As Of Yesterday- Stockholm, 01.-03.08.2014
The World As of Yesterday, Stockholm, 01.08.14-03.08.14. The sculpture was made out of 28 ton compressed paper which was transformed during three days at Stockholm Music and Arts, Stockholm. Day one; a live-act was made together with Lars Siltberg (sound). Day two; the sculpture was transformed to resemble a stage with the help of Emelie Carlén. Day three; Live-act together with Balazs Pandi (drums), Jon Wesseltoft (guitar) and Anastasia Ax (vocals). Photography; Jujje Eriksson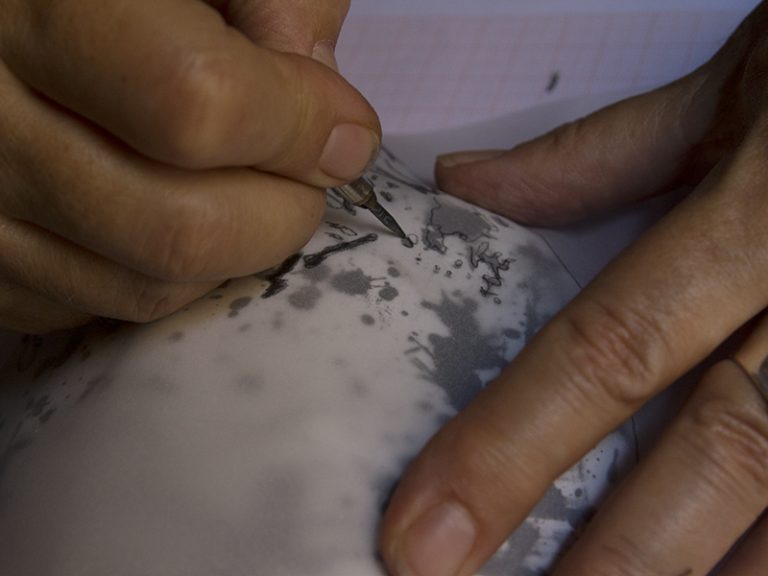 EXILE- Kunsthalle Athena, Athens, 21.05- 21.09.2014
EXILE as part of the exhibition This is Not My Beautiful House at Kunsthalle Athena 21may.- 21 sept 2014. Materials; books, clothes, plasterboards and plaster. The installation was altered two times during the exhibit period. In the second phase dr. Arto Penttinen, head chief at the Swedish Institute in Athens did a Archeological excavation in the remains of the installation and archeological artist, Anne Hooton did a series of artifact drawings on six of the found pieces.
Photography: Stathis Mamalakis FRIEZE review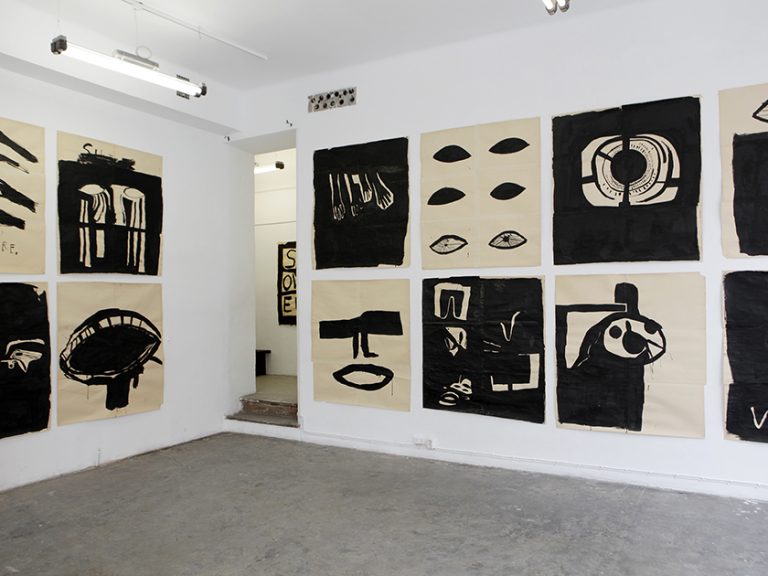 SWALLOWED FEAR
21 feb- 21 march Solo exhibition at Gallery Steinsland Berliner. Art Review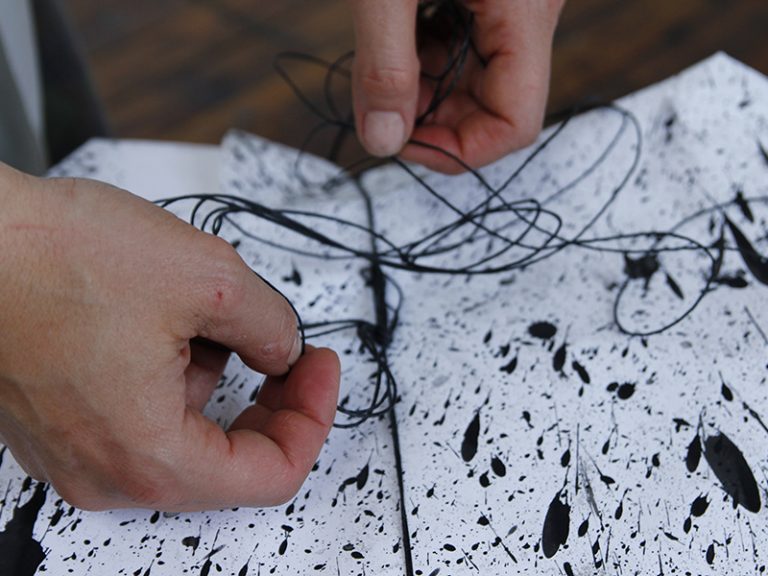 FLUX OBJECTS- 2013-ongoing
The project is based on the idea of the sculpture as a continuous process rather than a stabile and frozen entity. The first step was made in my studio in Brooklyn, NYC, 2013, where I packed the remains of one of my earlier installation /performance into three packages with black rope. They were taken to Stockholm at Mini bar Art space, were I invited artist Marja- Leena Sillanpää to transform one of the packages into a new shape and form with her choice of rope. That sculpture  is now on its way to Vilnius by the caring hands of curator Jacquelyn Davis. Were she will pick a person/ artist to transform it once again.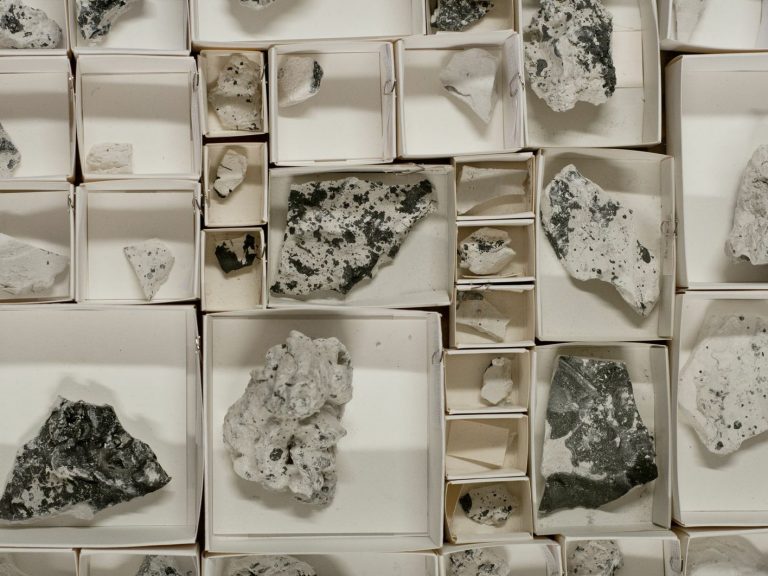 EXILE Helsinki 1.-24.11.2013
1-5 nov. Construction- Assistants; Hanna Marno and Tuukka Petteri Haapakorpi. Material used; 2 ton plaster, books and clothes provided by UFF, plasterboards.
7 nov. Opening reception
18 nov. Performance with Tommi Keranen. Material used; Water, ink and sound cables
19- 21 nov. Final demolition of the installation and the creation of a new one. Assistants; Hanna Marno and Tuukka Petteri Haapakorpi.
22 nov. Concert/ Finissage . The Truckfuckers ( Tommi Keranen, Ilpo Heikkinen & Lauri Hyvärinen) Kuupuu ( Jonna Karanka)
23 nov. Quasi- archeological excavation. All together 150 artifacts ( plaster objects) were carefully identified cleaned and put in paper boxes. Each of the 150 artifacts got its exact position in relation to the gallery/installation floor.
For further reading, please go to; Sinne EXILE, Helsinki
Photography; Marcus Åström and Anastasia Ax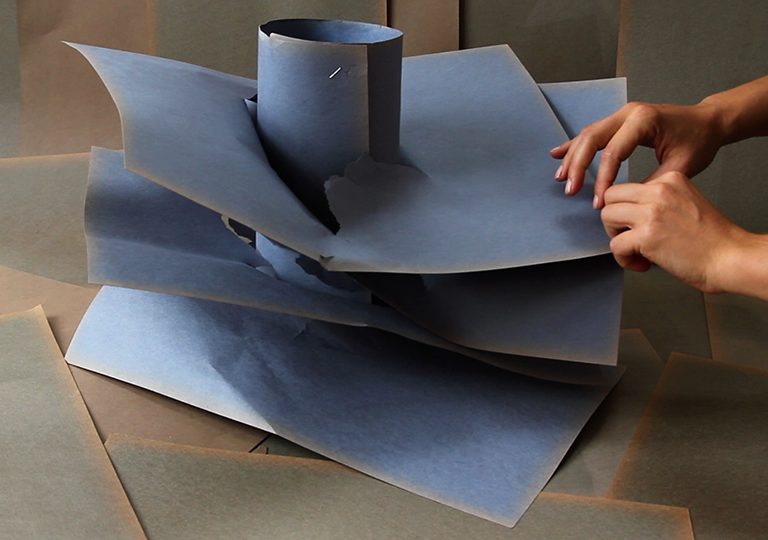 Tactics of resistance, 2013
Stills from video. Made with 30 years old found paper.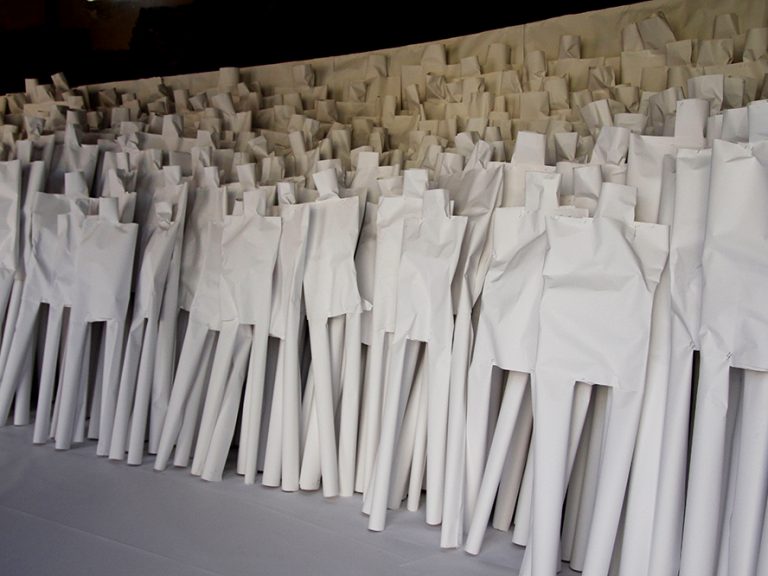 Conquest and Remorse- Arezzo biennale 2013, Italy
Installation made with the help of dear friend and colleague Tova Rudin- Lundell.
Materials used; Plotter paper, ink, water, sound equipment. Thanks to Paivi Tirkonen and Chimera for packing the installation. Special thanks to Rudi in Arezzo for providing shelter and care for the sculptures.

Photography; Tova Rudin Lundell, Anastasia Ax, Paivi Tirkonen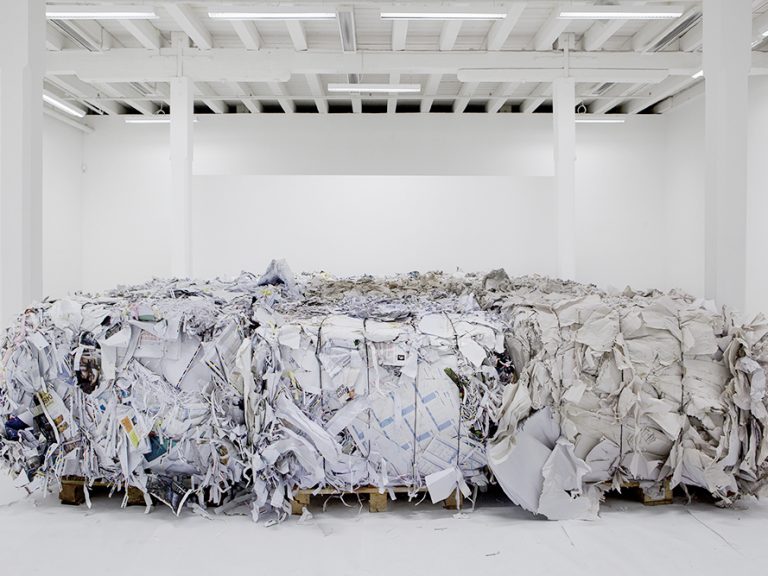 DEBRIS, 2013
Performative installation made with 8,4 ton compressed office paper, plotter paper and ink. The performance was made in collaboration with Jon Wesseltoft.
From the exhibition Power is exercised, curated by Jeanette Steinsland. Bomuldsfsbriken, Norway.
Photography; Maja Flinck

After the exhibition the paper was compressed back in its previous shape and transported back to the local paper recycling company.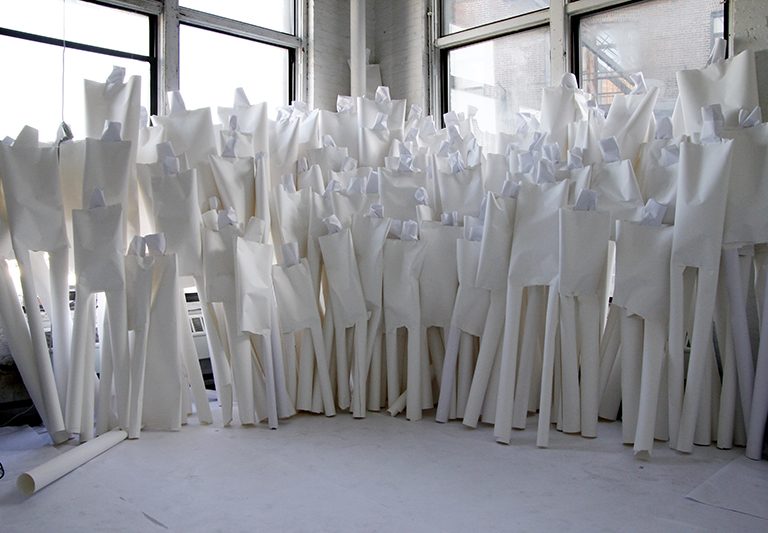 Imagine Death, Open Studios, ISCP, Brooklyn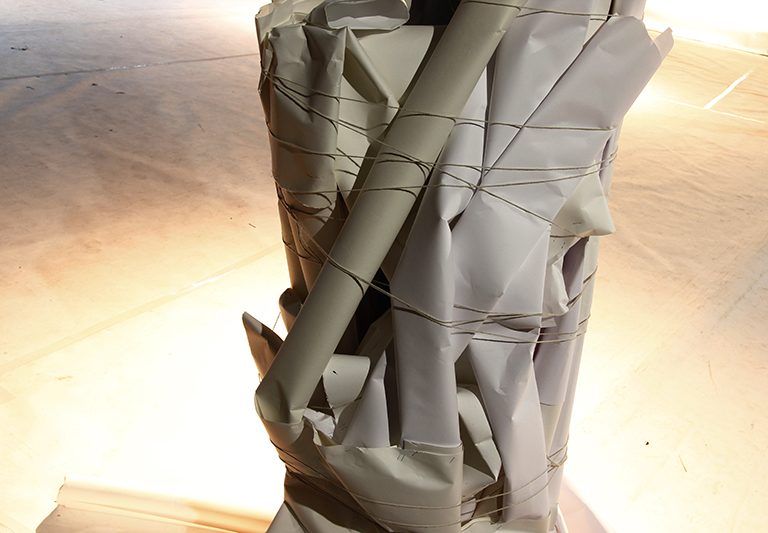 Imagine Death, CSV center NYC, 30nov-1dec 2012
The paper installation served as a backdrop for the annual Swedish Energies, curated by Joakim Nordwall and ISSUE project room.
The venue took place at CSV center located in east village, NYC. For more info please click here. For video doc. from Anastasia Ax and Lars Siltbergs performance click here.

Photography; Lisa Nordwall and Anastasia Ax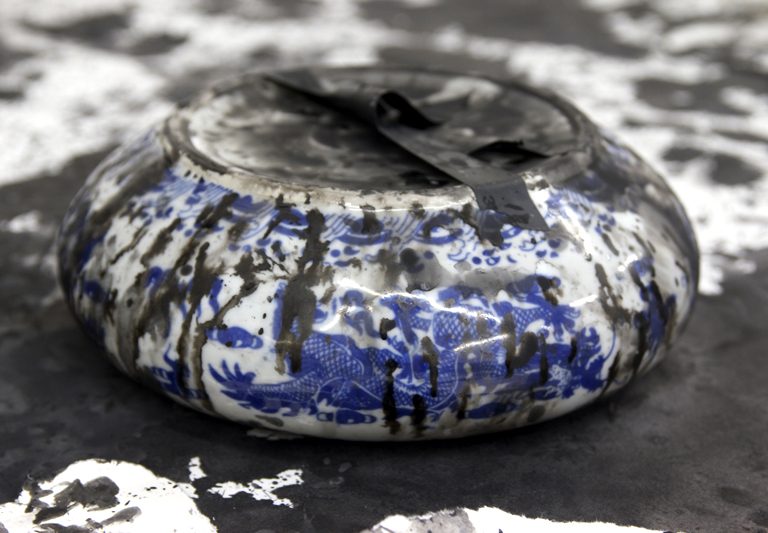 The current, Am space, Shanghai, 2012-
Step into the current is an ongoing project. The compressed paper objects will be re-installed in a different space in a different place in the near future. An expanding act cutting through time, space and architecture. With a simple wish; to create its own anarchic space. Step into the current was co-organized by Am space and Biljana Ciric.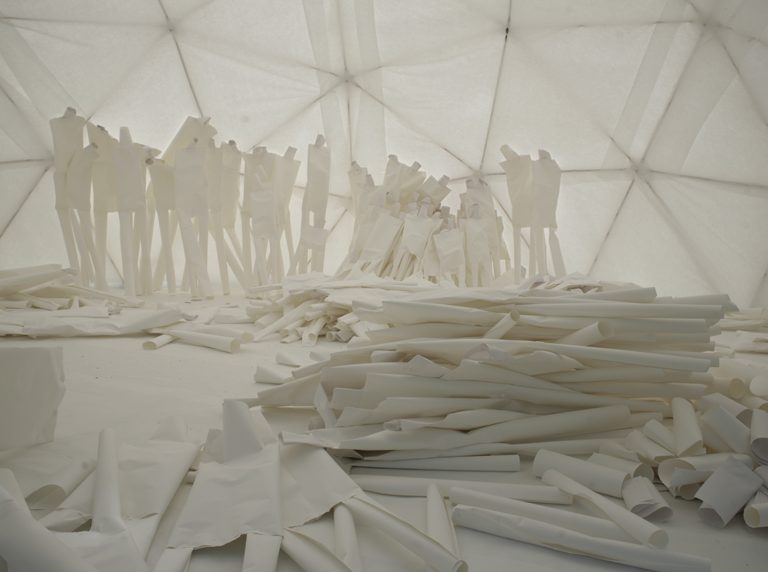 PAN THEON, Moderna museet, 30/5-1/9 2012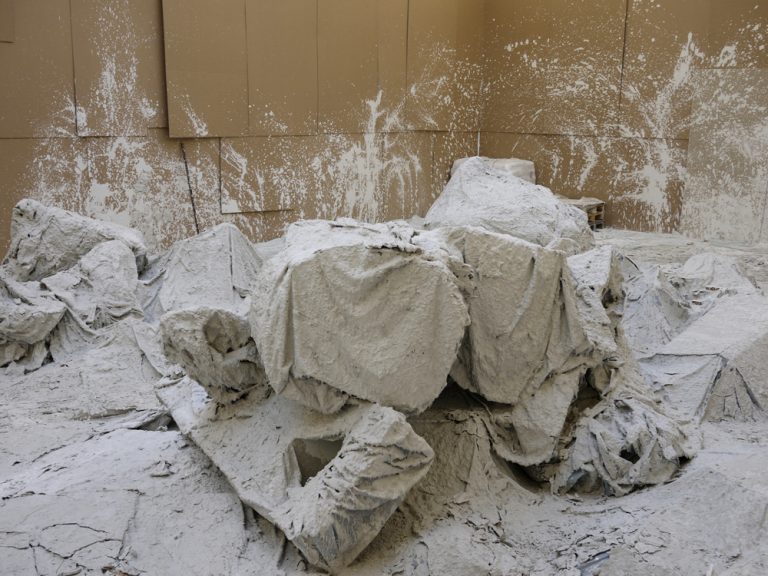 KATARSIS, Göteborgs konsthall
The remains of previous workshops arranged by the arthall was reused and became the fundament of my installation. With help of four friends the reamins was put under plastic and covered with one ton plaster. On the fourth I did a performance in collab with Lars Siltberg who created a choir sound piece. The participants was found through an open call process. After my performance the reamins was taken to an unknown place.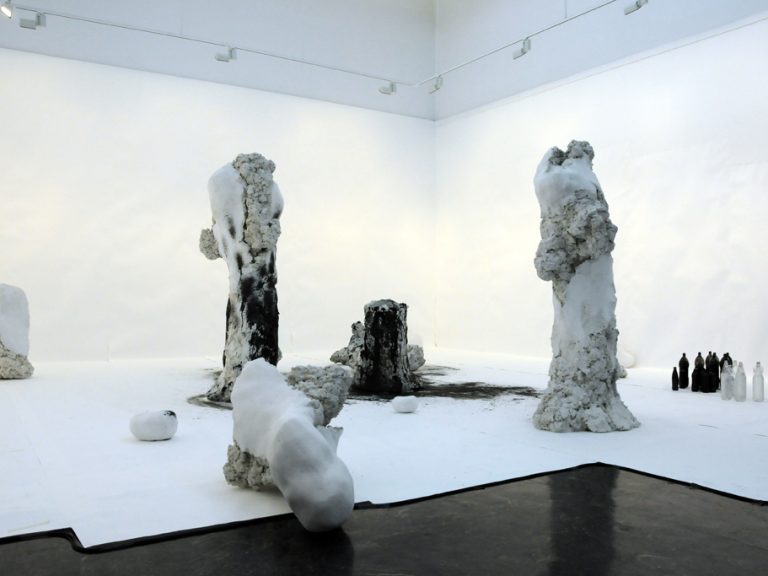 The Kid Below, 2009-2010
The Kid Below tour was a part of Carnegie Art Award  2010. The performance took place in the five nordic capitals during 2010 in collaboration with a soundartist from each city. For each new exhibit I reused and re installed the installation with the remains form the last performance. In this way the sculptures were abstracted into unidentified artefacts and pieces and in the end there were practically just pebble. Some of the remains were saved and is now resting in my garden at my country house in Värmdö. Please check under AUDIO/VIDEO for more details.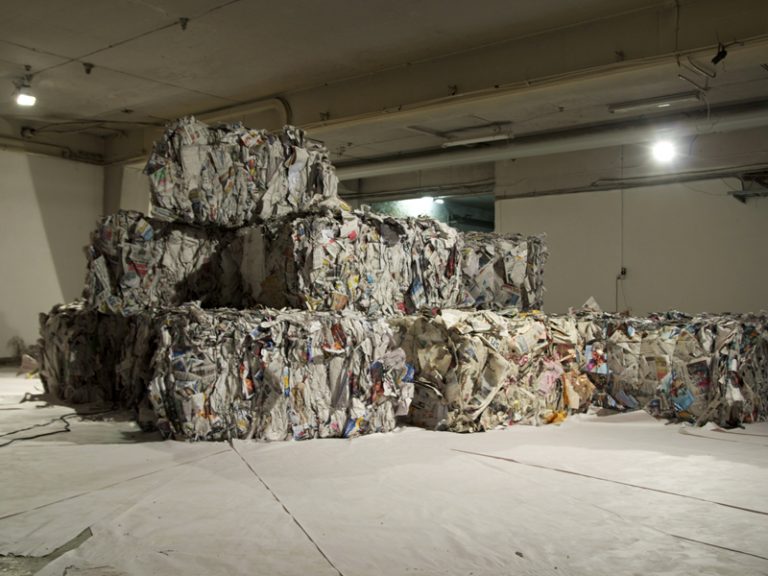 PAPER ISLAND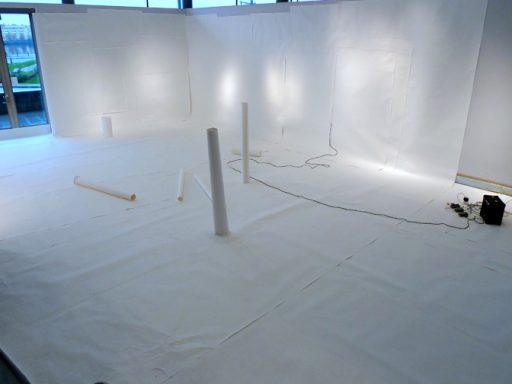 REACTOR at Kulturens hus, Luleå
The performance was split in three parts. Were the first part was on the opening night were a big abstract drawing was created. The second part was  two weeks after the opening were I tore up the installation . And the third part was some days later were I asked the audience to help me pack the "drawing" and create a new object. This sculpture is now on display during the two remaining weeks of the  exhibit. I am planning to keep the sculpture and unfold it and re- install it at an upcoming event in Stockholm this winter.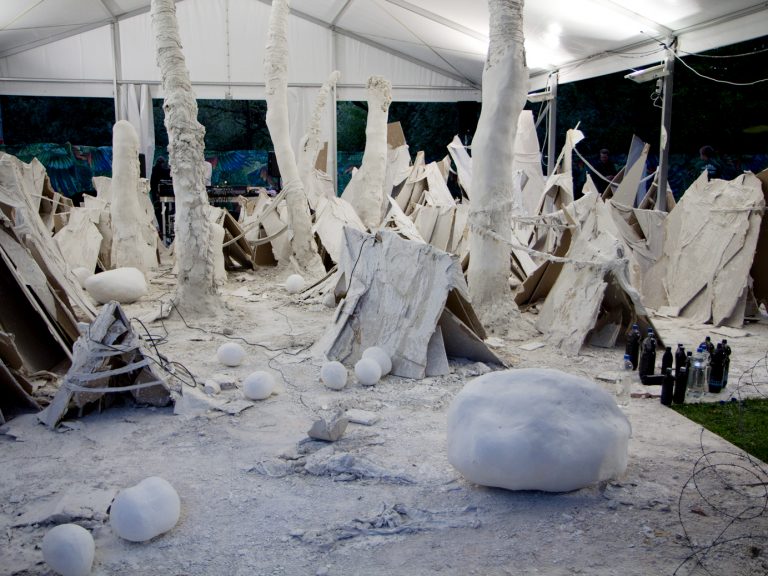 EXILE, way out west
The installation was built up one week before the music festival was held. With  help of two friends ( Tilda Lovell, artist and Tova Lundell, architect)  we created a site specific installation in the heart of Slottsskogen in Göteborg. The materials we used were second hand books, clothing, plasterboards and A LOT of plaster. The venue was split in two parts. The first night I did a performance in collab. with Oni Ayhun who did a club gig after my live-act, the "stage" changed character and became a dancefloor for the audience. The second day I did a collab. with the same concept as the night before with artist Marja-Leena Sillanpää and techno Dj Dasha Rush. After these two venues the installation was on display for one day. The fourth day I dumped the remains in a vaste ground.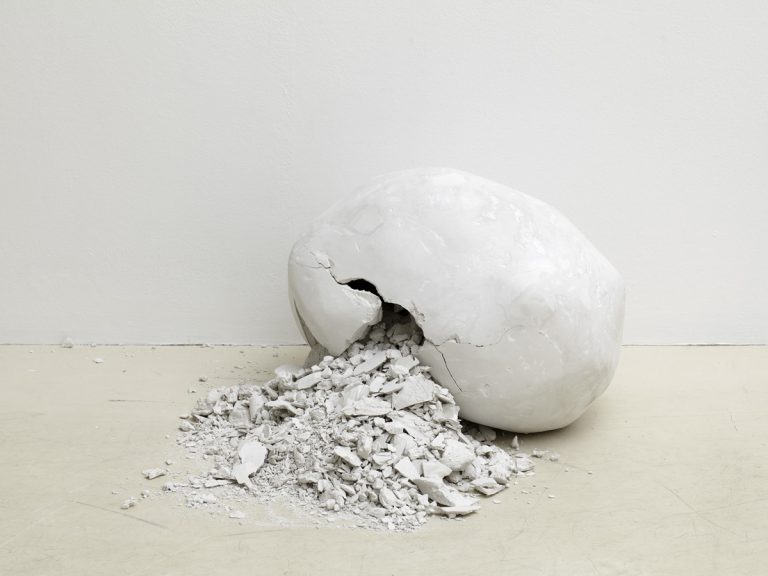 EXILE, at Galleri Christina Wilson
Photography: Anders Sune Berg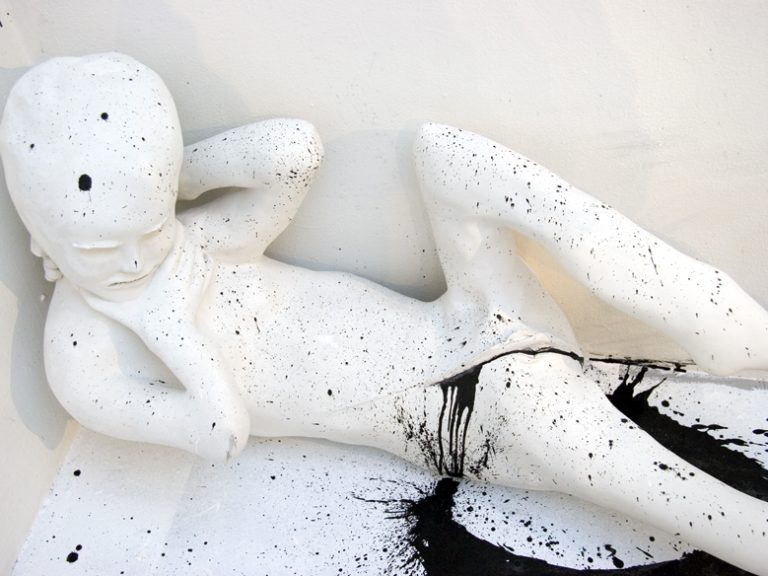 The Uprise, 2006
Photography: Mats Karsbrink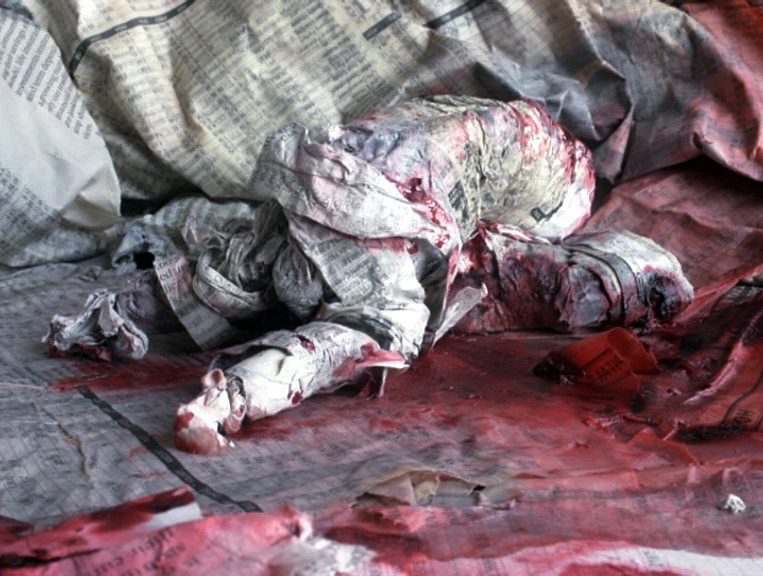 Peperfights 2007
PAPERFIGHTS, Animation with theaterblood, newspaper, water. See the animation here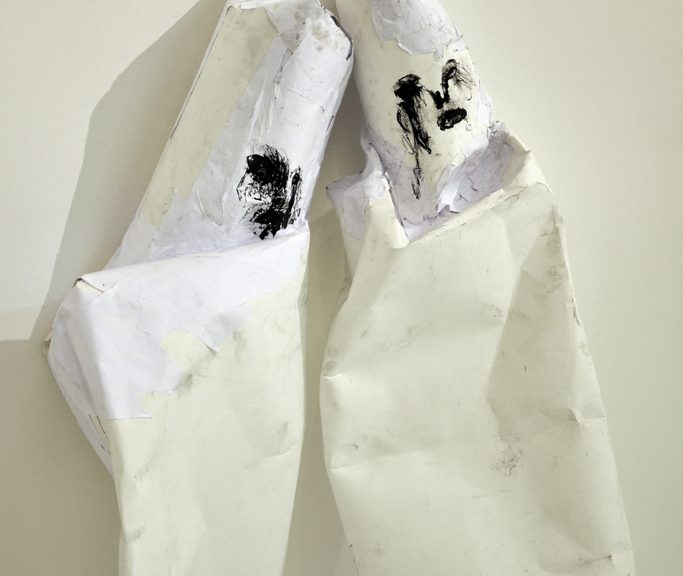 S&B, performance 2010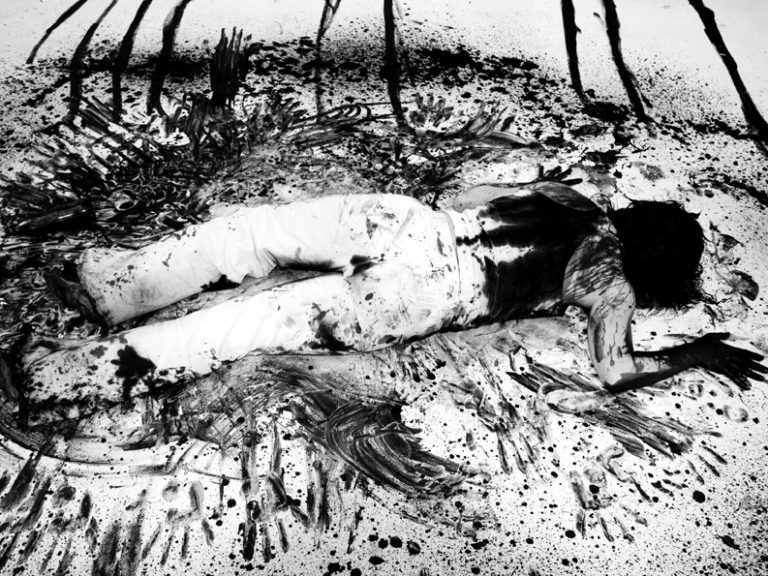 Ink Performance 2006-2007
Ink performance at Gallery Mejan and Natalia Goldin gallery 2006 and 2007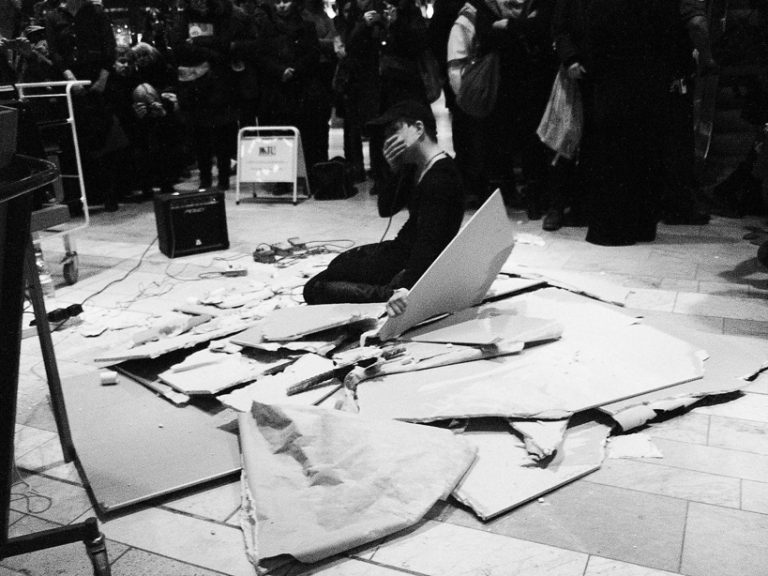 Bring New Life To Death 2011
Bring new life to deathBring New Life To Death in collaboration with Marja-leena Sillanpää , performance i two parts. 17-02-1011, 19-02-2011 Kulturhuset, Stockholm. There will shortly be a box available with the recorded sound from the performance and a piece of the destroyed plasterboards at Marja-leenas own label satumaa*kustantamo. Watch out! Listen to the recorded sound here
Photography: Jukka Rintamäki and Lars Siltberg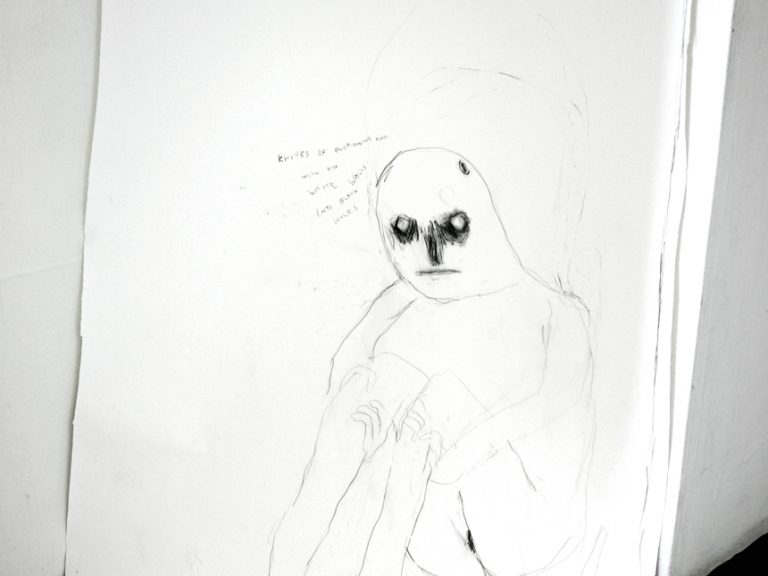 Drawings 2004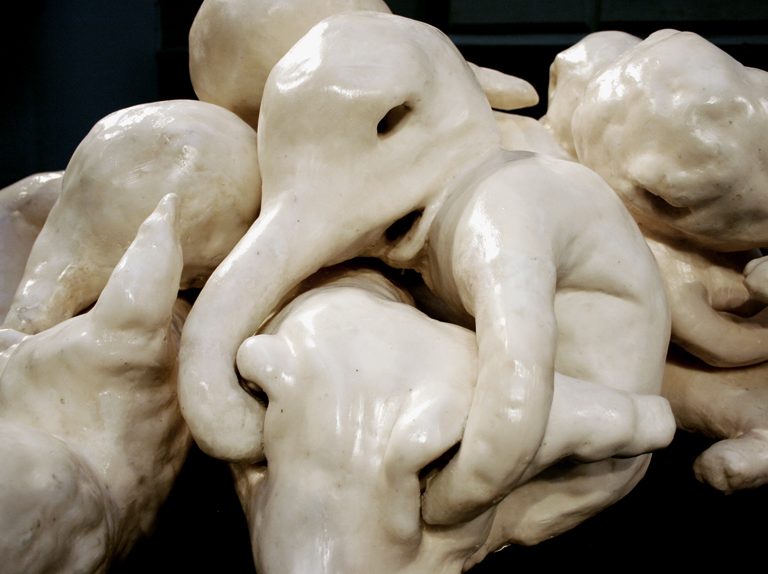 Trunk 2004
The work is currently on display at Göteborgs konstmuseum. Trunk is part of the museums permanent collection.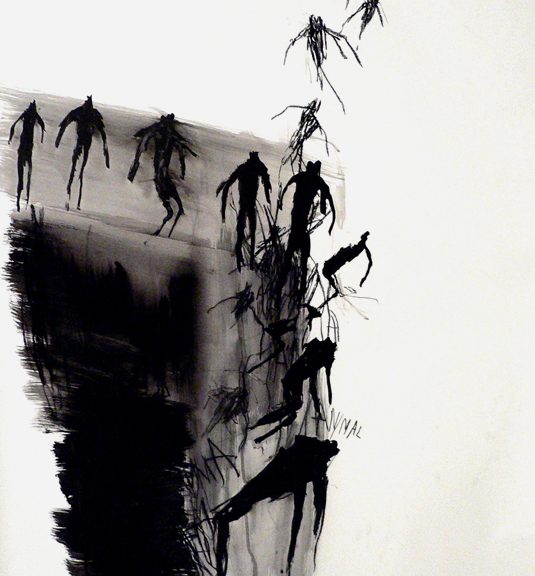 Fossil, at Natalia Goldin gallery 2008
Fossil at Natalia Goldin gallery, solo show.